We would love to learn more about how we can help answer any questions or assist with your website needs. Feel free to reach out to us from this page, call or send us an email and we will be happy to get back to you!
Please complete the following form and we will review and reach out to you as soon as possible. If you prefer to submit this form via paper, please download and complete this form and send by mail to the following address or call us at (855) 50-MOUSE / (855) 506-6873

Prefer to submit this form by mail?
Download the Paper Subscription Form here and mail it to the following address.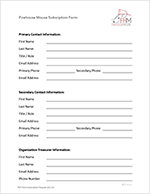 Firehouse Mouse LLC
PO Box 202
Corfu, New York 14036